Damberg, Wilhelm / Hummel, Karl-Joseph (Hrsg.): Katholizismus in Deutschland. Zeitgeschichte und Gegenwart, Paderborn 2015
(Veröffentlichungen der Kommission für Zeitgeschichte, Reihe B: Forschungen, Bd. 130)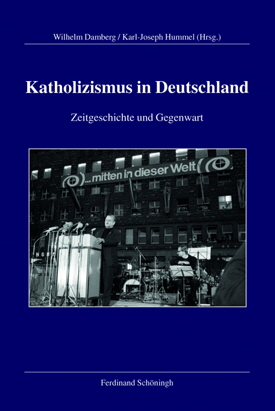 German Catholicism has been one of the important political-social forces of recent German history. At the watershed of its metamorphosis – marked by the post-Vatican-II awakening and the abandonment of the Catholic milieu – the Kommission für Zeitgeschichte was founded in Munich in 1962, to research this heritage and increase general awareness of its significance for the wider culture of the Federal Republic of Germany. Source-based historical research into this recent history of German Catholicism continues to provide a reliable scholarly foundation in the controversies that still rage, in particular about the Nazi period.
Today, the 1960s and 1970s have themselves become the subject of historical research on Catholicism. The circumstances governing society, religion, and the churches have been greatly transformed and have in turn fundamentally changed the parameters for Catholic action and indeed German Catholicism itself.
The volume includes contributions by renowned historians, theologians, sociologists, and political scientists on the occasion of the 50th anniversary of the Kommission für Zeitgeschichte, which illuminate from different perspectives the coherencies of Catholicism's recent history and present. In the process, it establishes a distinctive starting point for future research into Catholicism in Germany.
To order our publications, please, contact your local bookshop or the publishing house Schöningh in Paderborn.