Oboth, Jens: Pax Christi Deutschland im Kalten Krieg 1945–1957. Gründung, Selbstverständnis und »Vergangenheitsbewältigung«, Paderborn 2017
(Veröffentlichungen der Kommission für Zeitgeschichte, Reihe B: Forschungen, Bd. 131)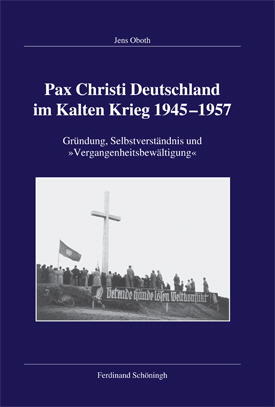 After two devastating world wars, a rapprochement between France and Germany was a necessary precondition for a reconciled Europe. The Pax Christi peace movement, which originated with Catholic French resistance fighters, made a historic contribution to this process. How the German branch of the movement reacted to the hand of reconciliation extended from France is the subject of this book.
The book describes how, after the war's end, it was individuals and smaller groups who first took up and pressed ahead with the idea of Pax Christi. They were inspired not only by the struggle for peace, trans-national reconciliation, and the moral rehabilitation of Germany but also by the notion of an all-encompassing spiritual renewal for Europe. Animated by the missionary spirit of Catholic Action, laypeople endeavored to construct a sustainable organizational framework in concert with representatives of the Church hierarchy and exert influence on political decision-making processes through spiritual activities.
In the early phase of the Cold War these efforts were by no means free of tensions. Pax Christi's persistent opposition to the Adenauer government's political course – for example in regard to the trials of former Nazis, de-Nazification procedures, or rearmament – made it difficult to find a position in the mainstream of society. In addition, conflicts flared up with the bishops over the movement's political orientation and pacifism. Whereas in the early years the main focus had been on German prisoners of war and the integration of expellees from the east, by the mid-1950s Pax Christi activists increasingly shifted their attentions to the victims of National Socialism. Symbolic sites of Nazi terror, such as Oradour-sur-Glane, activated a learning process that made Pax Christi trailblazers of future trans-national efforts at reconciliation with the victims of Nazism.
The author is the first to describe the multifaceted foundational history of the Pax Christi movement's German branch. A previously little-known chapter in the cultural history of German-French relations since 1945 thereby receives a thorough scholarly examination.
To order our publications, please, contact your local bookshop or the publishing house Schöningh in Paderborn.