Flammer, Thomas: Nationalsozialismus und katholische Kirche im Freistaat Braunschweig 1931–1945, Paderborn [u. a.] 2013
(Veröffentlichungen der Kommission für Zeitgeschichte, Reihe B: Forschungen, Bd. 124)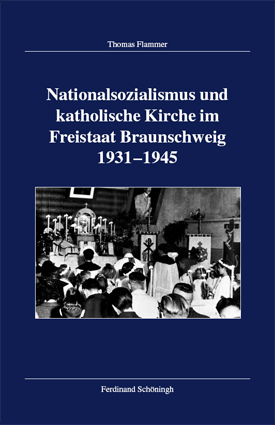 In contrast to the majority-Catholic regions of the German Empire, Catholics in the Duchy of Brunswick formed a confessionally and politically marginalized minority amounting to only 5 %. During the Weimar years, they made up for lost time by significantly expanding organized Catholic life but by 1930/1931, these gains were already coming under political pressure from the Nazis. In 1933 therefore, Catholics' more restrained professions of allegiance to the »Third Reich« collided with the Nazis' coercive measures against Catholic associations and other organizations. Earlier than in the Catholic »strongholds« of the Reich, the Church in the Brunswick territory retreated to the narrow interior realm of parish life.
In 1937, these hard-pressed and »churchified« structures came to feel the full force of National Socialist labor migration. With the establishment of the »Reichswerke Hermann Göring,« tens of thousands of workers of various religious backgrounds were transferred to this »developmental region« in a very short time-span. Planned without any church or parish structures of their own, the new housing settlements became laboratories for a »wandering Church« strategy and its pastoral network, which was established largely by women and drew on early Christian notions of »house churches.«
Despite such innovative methods of religious practice, the »wandering Church's« reach remained limited. For one thing, not all Catholics who migrated to the region were interested; for another, the Nazi regime actively combated such efforts. To be sure, during World War II, pastoral care for the forced laborers deported in huge numbers to the »developmental region« was successfully integrated into the »wandering Church« network through foreign priests. But these efforts could only partially withstand the pressures of everyday wartime experience in a totalitarian society.
This regional study, which draws heavily on original sources, ventures into uncharted territory. For the first time, strategies of pastoral care, modes of behavior, and experiences of Catholic diaspora parishes have been subjected to a comprehensive historical study. In the process, the »everyday life« history of Catholics in the Third Reich has been enriched through a previously neglected perspective.
To order our publications, please, contact your local bookshop or the publishing house Schöningh in Paderborn.