Habersack, Michael: Friedrich Dessauer (1881–1963). Eine politische Biographie des Frankfurter Biophysikers und Reichstagsabgeordneten, Paderborn [u. a.] 2011
(Veröffentlichungen der Kommission für Zeitgeschichte, Reihe B: Forschungen, Bd. 119)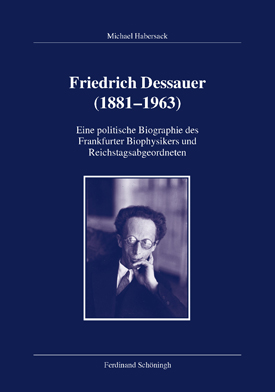 The Frankfurt biophysicist Friedrich Dessauer (1881–1963) was »one of the most fascinating figures in German Catholicism of his time.« He is widely known as a pioneer of x-rays. By contrast, in his role as a political leader and parliamentarian of the Center Party (he was noted for his commitment to social policy both in the Reichstag and at the municipal level), Dessauer has largely gone unnoticed.
Using a broad range of sources, the study examines Dessauer's political career in the Weimar Republic. As the political head of Frankfurt Catholicism, he led his party into an alliance with the SPD and DDP in 1919, thereby laying the foundation for a path-breaking communal urban development of the Main metropolis. Dessauer financially rehabilitated and published the Rhein-Mainische Volkszeitung. Radiating far beyond the city limits, it became the mouthpiece for a new Center Party politics that left behind older Catholic inferiority complexes and believed Catholics' place should be in the middle of society. Dessauer had a lifelong friendship with Carl Muth, the influential publisher of the Catholic cultural journal Hochland. As a result of his stance on the issue of compensating disempowered rulers (so called Fürstenabfindung), Dessauer became an object of hate for right-wing Catholic and ethnic-nationalist (völkisch) circles. The »kleiner Volksvereinprozeß« in 1933, a purely political trial involving the Volksverein, a Catholic social organization, pursued Dessauer even into exile in Istanbul.
The present political biography is the first to comprehensively honor Dessauer's lifetime achievements as a brilliant scientist, energetic entrepreneur, and committed proponent of democracy. In doing so, it shows that the personality of this intellectual, who was persecuted and ostracized by the Nazis, had a firm foundation in the Christian faith as a »homo catholicus in the best and broadest sense.« As a historical cross-section through the »age of catastrophes,« Dessauer's biography provides edifying insights into the history of Frankfurt and political Catholicism between the Wilhelmine Empire and the Federal Republic.
To order our publications, please, contact your local bookshop or the publishing house Schöningh in Paderborn.