Kuhl, Christoph: Carl Trimborn (1854–1921). Eine politische Biographie, Paderborn [u. a.] 2011
(Veröffentlichungen der Kommission für Zeitgeschichte, Reihe B: Forschungen, Bd. 120)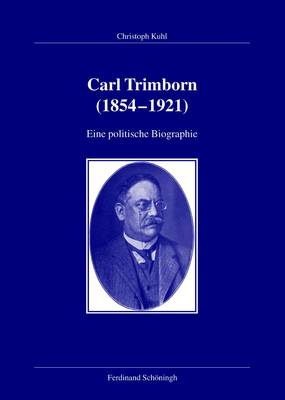 Carl Trimborn was one of the leading personalities of political Catholicism in the Wilhelmine Empire and early Weimar Republic.
Born in 1854, Trimborn studied law and, as chairman of the Center Party in the Prussian Rhine Province from 1894 to 1920, worked to establish a modern party organization. From 1886, Trimborn represented his hometown of Cologne in the Reichstag and the Prussian House of Representatives. There, he worked for the interests of industrial workers and the commercial small business sector. As a parliamentarian and as a state secretary in the Reich Interior Ministry from 1912 to 1918, Trimborn was held in high esteem and received broad political recognition in matters of social policy. In the conflict of catholic labour unions, he expressly supported the continued existence of interconfessional Christian unions.
After the revolution of 1918, Trimborn was a pillar of the pragmatic government coalition between his own party and the SPD. As a member of the Weimar National Assembly and chairman of the Center Party's fraction in the Reichstag, Trimborn made an essential contribution to the political stability of Germany. His organizational prudence and his personal ability to fashion compromises made it possible to gather the diverging forces within the party and guide it through the republic's difficult early years.
Drawing on a broad base of sources, this volume presents the first comprehensive biography of this prominent Rhenish and German Center Party leader. It helps complete our understanding of those forces within political Catholicism that succeeded in reconciling Catholics with both the Wilhelmine nation-state and the democracy of the Weimar Republic.
To order our publications, please, contact your local bookshop or the publishing house Schöningh in Paderborn.