Kiefer, Rolf: Karl Bachem 1858–1945. Politiker und Historiker des Zentrums, Mainz 1989
(Veröffentlichungen der Kommission für Zeitgeschichte, Reihe B: Forschungen, Bd. 49)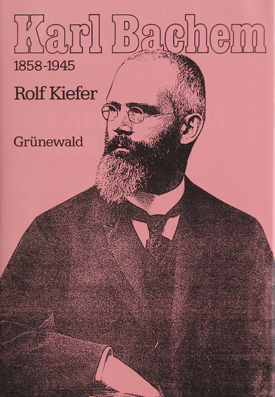 The Cologne Center Party politician Karl Bachem (1858–1945) helped shape the politics of his party around the turn of the 20th century as a parliamentarian and accompanied and influenced it for decades through a prolific political journalism. These writings, as well as his nine-volume history of the Center Party and his voluminous papers, constitute an indispensable source for historians of the 19th and 20th centuries. What has been missing until now is a complete account of this Rhineland jurists' life and career.
The Cologne publisher's son and lawyer was not one of those statesmen or politicians who coveted power or offices in party and state. Bachem operated adroitly behind the scenes, an »eminence grise« beside the party's official leaders and a dependable mainstay in its inner circle of power. His good contacts to the Vatican were indispensable for the Center Party and its inner orientation. Bachem's »direct line« to Rome and his skill at setting and achieving political goals enabled him to take on a key role in the passing of a civic legal code during his time as a Reichstag deputy in Berlin from 1889–1906. But Bachem was much more than a parliamentarian »sly fox« with good political judgment. As a conservative intellectual, he also functioned as a party theoretician and the Center Party's unofficial »chief ideologist.«
Rolf Kiefer's study also shows another side of Bachem's personality. This »rebel on the right« hoped to achieve national rehabilitation for Germany's Catholics by supporting annexationist aims during the First World War and policies that promoted the nation's wartime »endurance.« Bachem was enough of a realist, however, to return quickly to the traditional Center Party line during the Weimar Republic.
Bachem's life's ambition, the establishment of a mass party grounded on inter-denominational Christian principles, was finally fulfilled shortly before his death. Bachem welcomed the establishment of the Christian Democratic Union, for which his life's work helped idealistically prepare the way.
To order our publications, please, contact your local bookshop or the publishing house Schöningh in Paderborn.