Hörster-Philipps, Ulrike: Joseph Wirth 1879-1956. Eine politische Biographie, Paderborn [u. a.] 1998
(Veröffentlichungen der Kommission für Zeitgeschichte, Reihe B: Forschungen, Bd. 82)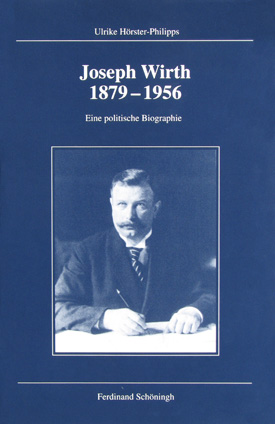 Joseph Wirth is among the most controversial politicians of the Weimar Republic and post-World War II Germany. The Freiburg native – who served as Center Party parliamentarian, government minister, and Reich Chancellor – and the politics he pursued continue to provide ammunition for controversy at various stations of his life. In 1922, for example, the Rapallo Treaty with Soviet Russia was concluded under Wirth's chancellorship. Legends about Wirth's political position in the Nazi period, his supposed attempts to ingratiate himself with Hitler's regime, or his purported activities for various intelligence services live on even in the most recent publications. In the 1950s, Wirth stood for the option of a militarily neutral, reunified Germany – in contrast to his party associate Konrad Adenauer. Wirth's contacts to East Berlin and Moscow in this period quickly saddled him with what turned out to be the long-lasting reputation of a marionette whose strings were pulled by the communists.
Ulrike Hörster-Phillips' political biography is based largely on the extensive collections of Wirth's personal papers at the German Federal Archive in Koblenz and in Moscow, which were inaccessible until 1990, on records from the former East German Communist Party archive and other archival materials.
In light of these newly available sources, the author sketches a differentiated political profile of Wirth, fills in »blanks« in his biography, and dispels legends. Joseph Wirth's life emerges as an exciting reflection of his times, marked by contrasts and contradictions.
To order our publications, please, contact your local bookshop or the publishing house Schöningh in Paderborn.