Hinkel, Sascha: Adolf Kardinal Bertram. Kirchenpolitik in Kaiserreich und Weimarer Republik, Paderborn [u. a.] 2010
(Veröffentlichungen der Kommission für Zeitgeschichte, Reihe B: Forschungen, Bd. 117)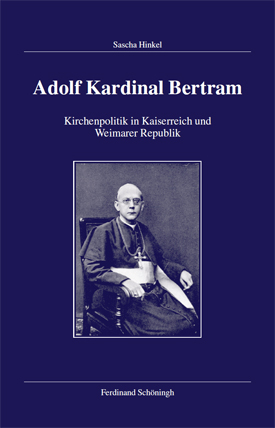 Adolf Cardinal Bertram (1859–1945) ranks among the most controversial German bishops of the 20th century. In matters of church politics, his character received its decisive imprint during the Kulturkampf and his time as bishop in the Hildesheim diaspora (1906–1914). Bertram consistently took up the fight against the representatives of teachings that were hostile to faith. Yet it was inconceivable for him to quarrel with the same people in their function as bearers of state authority. He unwaveringly stood by the view that the Church should coexist with the divinely ordained ruling power. He continued this line, which he had already taken under the monarchy, during the Weimar Republic, as a »republican of reason.« Bertram's name call to mind the accusation that the Catholic Church in the third Reich thought first and foremost about its own survival and therefore acted too cautiously politically. Rather than taking public stands and offering resistance, it restricted itself to protesting Nazi statutory violations by a traditional »policy of petition« through diplomatic channels.
The present study adds to the historical picture of the long-serving chairman of the Fulda Bishops' Conference (1919–1945) in key areas. It takes a longer chronological view and provides, on the basis of new sources, the first systematic examination of the Archbishop of Breslau's church political actions before 1933.
To order our publications, please, contact your local bookshop or the publishing house Schöningh in Paderborn.